Alignment Yoga Inten...
Alignment Yoga Intensive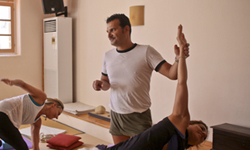 Date:
Aug 13 - Aug 13, 2017
Price:
80€
Including brunch; 10% discount for locals & holders of Yoga monthly card

Accommodation Details
The participants of this event are offered special rates in family hotels in the near-by village of Ambelas. You can see the various options in this link.
For hotel booking, car/scooter reservations and registration, please contact us through the More Info button above.
Tao's Center is happy to offer a One-day Alignment Yoga Intensive on Sunday, August 13, with Meir Bar-Maymon.
Alignment yoga focuses on the way we stretch and flex. It helps to explore the geometry of the body, horizontally and vertically, while readjusting our mobility, according to plans movements and subtle spirals.
Meir Bar-Maymon is a certified yoga teacher for the past 13 years and currently teaches philosophy and yoga in Paris.
Date & Schedule
Sunday, August 13
10:00 – 12:00 Morning Practice
12:00 – 13:30 Brunch
13:30 – 15:30 Afternoon practice
For more information and registration please contact us:
+30 22840 28882