Iyengar Yoga Weekend
Iyengar Yoga Weekend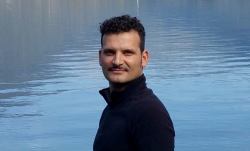 Date:
Jul 28 - Jul 29, 2018
Price:
200€
10% discount for locals

Accommodation Details:
The participants of the weekend are offered special rates in family hotels in the near-by village of Ambelas. You can see the various options in this link.
For hotel booking, car/scooter reservations and registration to the weekend, please contact us through the More Info button above.
Tao's Center is hosting Meir Bar-Maymon for his Iyengar Yoga Weekend.
Iyengar Yoga, named after and developed by B. K. S. Iyengar, is a form of Hatha Yoga that has an emphasis on detail, precision and alignment in the performance of posture (asana) and breath control (pranayama).
Iyengar Yoga is characterized by great attention to detail and precise focus on body alignment. Iyengar pioneered the use of "props" such as cushions, benches, blocks, and straps, which function as aids allowing beginners to experience asanas more easily and fully than might otherwise be possible without several years of practice. Props also allow elderly, injured, tired or ill students to enjoy the benefits of many asanas via fully supported methods requiring less muscular effort.
During the weekend we will learn the subtle precision and the delicate movements in different postures, all in order to establish a physical intelligence and a more profound way to control the mind.
The weekend will include 2 sessions a day and brunch.
Meir Bar-Maymon is a certified yoga teacher for the past 12 years and currently teaches philosophy and yoga in Paris.
For full info about the retreat please use the More Info  button on the right.