Summer Tai Chi Weeke...
Summer Tai Chi Weekend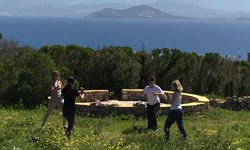 Date:
Aug 19 - Aug 20, 2017
Price:
75€
60€ for regulars and locals

Accommodation Details:
The participants of the Seminar are offered special rates in family hotels in the near-by village of Ambelas. You can see the various options in this link.
For hotel booking, car/scooter reservations and registration to each of the events, please contact us through the More Info button above.
Tao's is happy to host  Tai Chi weekends along the season.
Originating in ancient China, Tai Chi is one of the most effective exercises for health of mind and body.
There are many styles and forms of tai chi, the major ones being Chen, Yang, Wu, Wu  and Sun. Each style has its own features, but all styles share the same essential principles that include: mind integrated with the body; control of movements and breathing; generating internal energy, mindfulness, loosening and serenity.
The ultimate purpose of tai chi is to cultivate life energy within us to flow smoothly and powerfully throughout the body.
More details coming soon…