Alignment Yoga Retre...
Alignment Yoga Retreat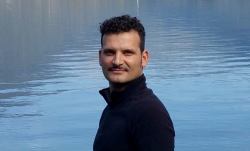 Date:
Jul 11 - Jul 15, 2017
Packages Details
The Alignment Yoga retreat is offered in a package that includes the workshop, daily brunch & dinner and 6-night accommodation in a family hotel in the near-by village of Ambelas:
761€ for sharing a room; 863€ for staying alone.
Workshop and meals-alone Price (without accommodation): 591€
10% discount for locals.
For more details and registration please contact Meir: barmymon@gmail.com
Tao's Center is happy to host Meir Bar-Maymon for his Alignment Yoga Retreat.
Alignment yoga focuses on the way we stretch and flex. It helps us explore the geometry of our body and readjust our mobility, according to specifically designed movements and spirals. Physical as well as very relaxing, the attentive placement of the body reduces joint and muscle pain (back pain etc.) and helps soften, strengthen and rejuvenate the body while having a very beneficial effect on the mind.
The 5-days retreat daily schedule includes morning and afternoon sessions, brunch & dinner.
Meir Bar-Maymon is a certified yoga teacher for the past 12 years and currently teaches philosophy and yoga in Paris.
Pictures from 2016 Alignment Yoga Retreat 
For more details about the retreat & for registration, please contact Meir: barmymon@gmail.com