Beyond Femininity | ...
Beyond Femininity | women retreat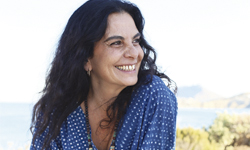 Beyond Femininity | women retreat
Date:
Jun 28 - Jul 01, 2018
Price:
560€
for 4-day workshop, daily breakfast and lunch & 5-night shared accommodation; 10% discount for locals

Packages Details
Beyond Femininity workshop is offered in a package that includes 5-night accommodation in family hotels in the near-by village of Ambelas:
560€ for sharing a room; 635€ for staying alone.
585€ for sharing a room; 710€ for staying alone.
675€ for sharing a room; 775€ for staying alone.
760€ for sharing a room; 870€ for staying alone.
Workshop and meals-alone Price (without accommodation): 485€
10% discount for locals
For more details & registration please contact us through the 'More Info' button above.
Beyond Femininity is a 4-day women retreat guided by Orly Doctori (Ujallah).
In this new feminine retreat, Orly expands her previous women work, guiding women to understand and realize not only their femininity but also their masculine aspect, creating the inner balance that is needed in order to develop as human beings.
In the attempt to connect to their feminine power, women tend to confuse what is feminine and what is masculine, because of social and cultural conditioning that affect both women and men. Beyond Femininity will clarify both feminine and masculine aspects, helping women to connect to both elements. This will manifest as Love in its true meaning – protecting, supporting and serving – first themselves and then others.
The 4-day retreat schedule includes morning, afternoon & evening sessions, using awareness techniques, movement, meditation and Kundalini yoga, combining both indoors and outdoors sessions, making use of the secure and meditative space of Tao's meditation hall and the serene nature of Paros island.
More about the retreat:
In this era of fast-moving life, when everything changes so quickly, it is essential to reach deep and get in touch with the great wisdom that goes far beyond what we've been educated to believe.
The body is a great window to this wisdom. Each area of the body gives us vital information about our current situation, our belief system, our truths. By taking the time and carefully directing our attention onto our body, we can explore our mental conditionings, emotional layers and spiritual abilities, finding many of the answers we've been looking for.
Beyond Femininity is dealing with:
* opening to intimacy
* exploring and balancing male & female aspects
* roles and family constellation
* conditioning and de-conditioning
* creating change
In a group of like-minded women, coming from different places, ages and backgrounds, we will create a supportive safe group-dynamic, manifesting the healing power and magic that rise when women gather together.
Pictures from 2016 Women group