Full Moon | Kundalin...
Full Moon | Kundalini Yoga & Gong Retreat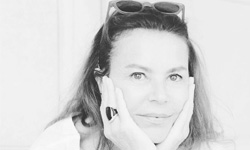 Full Moon | Kundalini Yoga & Gong Retreat
Date:
May 22 - May 27, 2018
Price:
price info in teachers publication
Full Moon Kundalini Yoga Retreat is offered in a package that includes the workshop, daily brunch and dinner & 6-night accommodation in family hotels in the near-by village of Ambelas.
For price & packages details please check the retreat page on Veronique' website or contact Lea:
Tao's Center is hosting Veronique Reimonenq for her Full Moon Kundalini Yoga & Gong Retreat.
The retreat will focus on the theme "Happiness is your birthright". The daily schedule includes morning and afternoon practice of Kundalini yoga, pranyama, mantra chanting, meditation and Gong healing circle. The retreat will conclude with a Full Moon Gong ceremony. The retreat is given in French.
Veronique Reimonenq studied Hatha Yoga in India and Kundalini Yoga in Los Angeles. She is also a grand master of Reiki and facilitates Gong baths. Veronique lives in France and organizes courses and retreats of her own and with special international guest teachers.
For full info about the retreat please check the retreat page on Veronique' website or contact Lea: