Playful Life | Movem...
Playful Life | Movement Improvisation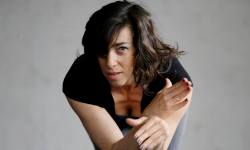 Playful Life | Movement Improvisation
Date:
Oct 12 - Oct 15, 2019
Price:
618€
for 4-day workshop, 5-night shared accommodation and daily breakfast & lunch; 10% discount for locals / repeaters

Packages Details
Playful Life workshop is offered in a package that includes the workshop, 5-night accommodation in family hotels in the near-by village of Ambelas and daily breakfast & lunch.
Eleana Studios
618€ for sharing a room; 655€ for staying alone
643€ for sharing a room; 705€ for staying alone
705€ for sharing a room; 755€ for staying alone
693€ for sharing a unit; 855€ for staying alone
Workshop and meals-alone Price (without accommodation): 570€
10% discount for locals / repeaters
For more details & registration please contact us through the 'More Info' button above.
Playful Life with Ilanit Tadmor is a movement improvisation and body awareness workshop.
Playful Life is a practice of awareness through body and movement. Focusing on the body sensations and motion brings the attention to the present moment – thoughts, feelings, the space around us and others – in a playful way, bringing about the joy of being present.
The 4-day workshop schedule includes morning, noon and afternoon/evening sessions, few of them outdoors, daily breakfast & lunch and free Island time.
Ilanit Tadmor in TEDx about improvisation:
More about the workshop:
Our body is a magical and powerful vehicle, through which we communicate, balance ourselves, create happiness and discover new opportunities in our life. Though sometimes forgotten, each and every one of us is a dancer. In fact, dancing is an aware, happy and creative movement, done throughout the most daily activities we perform: doing our hair, talking on the phone, eating and even sleeping. When our attention is focused on these routine movements, we actually turn them into dancing.
Being attentive to our body and movements is basically the capability to listen – to ourselves, to our body, to our thoughts and to our feelings, while staying attentive to our space and to others. Attentive movement is an inner inquiry that is created out of listening to the simple and trivial everyday actions.
Playful Life is about becoming aware of the present moment through our body and movement, connecting to the joy that this moment offers. This moment, elusive and subtle as it is, is an opportunity to fully apply our abilities, express ourselves, change and open up to the endless possibilities that surround us. This is the essence of aware movement & dance improvisation as well as of our life – our personal way, our unique approach to expression, our spontaneity and joy.
Playful Life is journey through body and mind in which we will practice different kinds of body work, explore movement, and experience unique celebration of awareness, emotion & dance. The workshop sessions with Ilanit are composed of release techniques, improvisation, authentic movement and contact. The workshop is proposed to anyone who wishes to connect to himself in a new, free and joyous way.
This is how the workshop looks like:



Pictures from September 2013 Workshop
Pictures from October 2014 Workshop