Movement & Mindfulne...
Movement & Mindfulness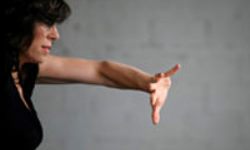 Date:
Sep 30 - Oct 04, 2020
Price:
490€
for 5-day workshop, 6-night shared accommodation and daily lunch; 10% discount for locals / repeaters

Packages Details
The Movement & Mindfulness retreat is offered in a package that includes the workshop, 6-night accommodation in family hotels in the near-by village of Ambelas and daily lunch:
490€ for sharing a room; 550€ for staying alone
520€ for sharing a room; 580€ for staying alone
600€ for sharing a room; 678€ for staying alone
605€ for sharing a room; 840€ for staying alone
Workshop-alone Price (without accommodation): 410€
10% discount for locals / repeaters
For more details, registration & reservations please contact us through the 'More Info' button above, or write to: taos@taos-greece.com
Movement & Mindfulness with Ilanit Tadmor is an exploration and practice of awareness through movement.
Bringing attention to the way you move and to your body sensations while doing so, enhances the experience of the present moment – thoughts, feelings, the space around you and other that share this space – and is simply a practice of Meditation and Mindfulness.
The 5-day workshop schedule consists of daily morning session and lunch:
09:15-09:45 Morning meditation
10:30-13:30 Morning session
13:30 Lunch
On the last day, an additional closing session will take place after lunch, 15:00-17:00.
Ilanit Tadmor in TEDx about Movement & improvisation:
More about the workshop:
Our body is a powerful vehicle, the channel through which we experience ourselves as human beings. Being attentive to it and to its movement is a key for our ability to listen to ourselves, to our thoughts, to our feelings and to others. Attentive movement is an inner inquiry, created out of listening to the simple and trivial everyday actions.
Movement & Mindfulness uses movement techniques, improvisation, mindfulness and meditation to bring and to enhance awareness in a creative way.
Ilanit about the workshop process and content:


Pictures from September 2013 Workshop
Pictures from October 2014 Workshop