NIA Movement Retreat
NIA Movement Retreat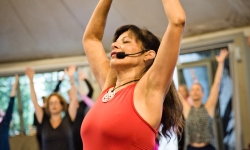 Date:
Sep 24 - Sep 28, 2017
Packages Details
The NIA Retreat is offered in a package that includes the workshop, daily breakfast & lunch, 4-night accommodation and shared cars.
For prices info please contact Ifat:
Tao's Center is happy to host Tuly Karmazin for her 3-day NIA retreat.
The NIA Technique – Non-Impact Aerobics – is a movement practice in the form of dance-workout. NIA dance-workouts combine simple moves with modern dance, martial arts and yoga, aiming to get you fit and energized in body, mind and spirit. It is practiced barefoot and adjusted to the needs and abilities of the participants.
Tuly Karmazin discovered NIA four years ago, a meeting that changed her life and led her to dedicate herself fully to it. She is currently ranked black belt and since three years she teaches classes and retreats in Israel.
More about Tuly Karmazin in NIA website
Pictures from 2016 NIA Retreat 
For more details and registration please contact Ifat:
Tel: +972 54 4890023