Therapists Intensive
Therapists Intensive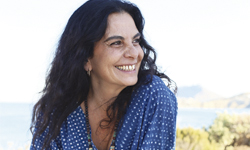 Date:
Oct 18 - Oct 21, 2018
Price:
480€
For workshop, daily lunch and 5-night shared accommodation; 10% discount for locals

Packages Details
Therapists Intensive weekend is offered in a package that includes 4-night accommodation in family hotels in the near-by village of Ambelas:
558€ for sharing a room; 620€ for staying alone
570€ for sharing a room; 620€ for staying alone
643€ for sharing a room; 690€ for staying alone
675€ for sharing a room; 745€ for staying alone
Workshop and meals-alone Price (without accommodation): 490€
10% discount for locals
For more details & registration please contact us through the 'More Info' button above.
Therapists Intensive is a weekend training given by Orly Doctori (Ujallah) designed for physio/psycho-therapists, coaches, healers, counselors or anybody who works with people, and for those who are ready to be their own teachers and therapists.
In this Intensive, Orly will present her therapy method – InLove Conscious – composed of techniques and insights from various realms and knowledge acquired from deep life research. It will provide the therapist with a thorough understanding of the patient's challenges and with practical, spiritual and mindfulness tools and exercises for healing and growth.
The Therapists Intensive daily schedule includes morning, noon and evening sessions, morning and afternoon meditations and lunch.
More about the Weekend Intensive:
The Intensive will explore and practice the following structure:
1. The Holy Space
Creating a safe space and maintaining an open dialogue on sensitive issues
2. The Chakras Structure of Evolution
Home, Joy, Uniqueness, Love intelligence, Expression, Vision, Connection to the Source
3. The Motion of Life
Feminine and masculine energies – characteristics, differences and conditionings
4. The Stages of Development
Childhood – 'I am the center of the world'
Teenhood – 'There is me and you; I see you , we are different'
Maturity – 'I look for the benefit of all'
5. Entering The Subtle
Un-doing, realization, creating reality, from sense to super-sense
6. Therapist-Patient Relationship
Love as the principle of therapy
7. The Therapist
Who is a therapist and what are the qualities needed
Beyond Femininity Women Retreat with Orly