Yoga & Meditation Re...
Yoga & Meditation Retreat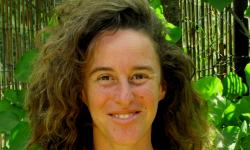 Yoga & Meditation Retreat
Date:
Apr 28 - May 02, 2017
The Yoga and Meditation Retreat is offered in a package that includes the workshop, breakfast & dinner, sharing a car for 4 days and 4-night accommodation in family hotels in the near-by village of Ambelas.
10% discount for locals.
For more details about prices, accommodation and registration please contact Roni: roni.m.friedman@gmail.com
Tel: +972 52 2567711
Tao's Center is happy to host Roni Friedman for her Vinyasa Yoga & Meditation retreat, combining practice with Greek island vacation.
The retreat sessions will focus on Vinyasa Flow yoga, combining it with the practice of meditation and with becoming familiar with the philosophy of yoga. In between, participants will have free time to explore the serene and beautiful surroundings of Paros island.
Roni Friedman is a yoga & meditation teacher, practicing and teaching since 2000. In 2004 she established Studio Naim and she is the yoga Content Producer of Yoga Arava, Israel largest yoga conference. She is also a choreographer & dancer, leading Artist Way groups and workshops.
For more details and registration to the retreat please check the workshop page on Roni's website, or contact Roni: roni.m.friedman@gmail.com
Tel: +972 52 2567711
More about Roni Friedman on her website