Yoga & Meditation Re...
Yoga & Meditation Retreat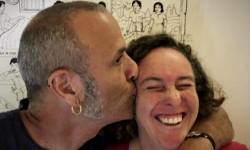 Roni Friedman & Yotam Agam
Yoga & Meditation Retreat
Date:
Jun 07 - Jun 11, 2019
Price:
price info in teachers publication
The Yoga and Meditation Retreat is offered in a package that includes the workshop, 4-night accommodation in family hotels in the near-by village of Ambelas and daily brunch & dinner.
For price & packages details please contact Roni:
Tao's Center is hosting Roni Friedman for Vinyasa Yoga & Meditation retreat, guided together with the musician Yotam Agam.
The retreat sessions offer a practice of Vinyasa Flow, meditation, breath and philosophy of yoga with Roni, accompanied with the specially-created music & sound of Yotam. In between, participants will have free time to explore the serene and beautiful surroundings of the island of Paros.
Roni Friedman guides international Yoga and Meditation retreats, focusing on bringing awareness to daily life. She is leading Yoga Teacher's Trainings and is a prominent figure in the Israeli yoga world.
Yotam Agam is a musician, sound engineer, Yoga teacher and many more. He performs in Wanderlust festivals and accompanies world leading Yoga teachers with his music.
For full info about the retreat please contact Roni:
More about Roni Friedman on her website
More about Yotam Agam on his website