Yoga with Chuck Mill...
Yoga with Chuck Miller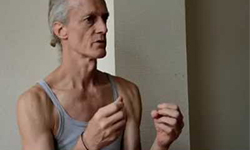 Date:
May 13 - May 17, 2019
Price:
795€
for 5-day workshop, 6-night shared accommodation and daily brunch & dinner; 10% discount for locals / repeaters, 15% discount for active Yoga Teachers

Packages Details
The Chuck Miller Yoga workshop is offered in a package that includes the workshop, 6-night accommodation in family hotels in the near-by village of Ambelas and daily brunch & dinner.
795€ for sharing a room; 870€ for staying alone
825€ for sharing a room; 900€ for staying alone
900€ for sharing a room; 960€ for staying alone
885€ for sharing a unit; 1,080€ for staying alone
Workshop-alone Price (without accommodation): 720€
10% discount for locals / repeaters; 15% discount for active Yoga Teachers
For more details & registration please contact us through the 'More info' button above.
We are honored to host one of the senior Yoga teachers in the world – Chuck Miller – for his annual workshop at Tao's Center.
The workshop will focus on getting back to the roots and essence of Yoga. It is a unique opportunity for practitioners of all styles to reveal an over-looked core dimension of yoga, especially for teachers and experienced practitioners. The workshop is meant for participants with prior of at least one year of regular practice.
The 5-day workshop daily schedule includes morning & afternoon sessions, breakfast, dinner and free island time.
REGISTRATION
Registration requires 100€ deposit. For more info & registration, please contact us:
Or click the More info button on the right side of the page.
More from Chuck about the workshop:
"…The three pillars, the principles of practice, can be thought of as 'anchors' for the mind, that keep us heading in the correct direction. I call these 'Breath, Roots, Core', the uniting of all three into one!
This will be our exploration. Using the precise sequence of Breath Movements as taught traditionally, not rushing to 'Get it done'. Rather, 'unpacking' the sequence, looking deeper into it, experiencing it in a more intelligent way, honoring the philosophical roots of the practice, experiencing philosophy and practice as one thing.
I don't care how far you go nor how fast you go. That you understand the direction and quality of effort is more important. It will start slower, it must. We cannot look deeply inside if we continue to run in the same grooves. We need to step out of the regular, habituated patterns of practice in order to evolve (love is in there, in that word!) and go deeper into the essential truths.
Come On. Give it a try. See if you are willing to be a beginner!"
Morning Practice
The first days will start slowly as a led class, evolving towards 'Mysore Style' as we progress through the week. This will enable clearing dysfunctional patterns, finding profound subtleties of the practice and creating a smoother, faster advancement with less injury.
Afternoon Sessions
In the afternoon sessions we will dive into particular areas of practice, that will include: the way we use our spines in forward bends, backbends and twists; bringing light to dark places by breathing into the back body; protecting our shoulders and doing partner work to help each other learn, especially in the areas we cannot see ourselves.
Pictures from June 2014 Workshop