Autumn Yoga Vacation
Autumn Yoga Vacation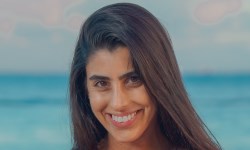 Date:
Oct 18 - Oct 22, 2023
Price:
price info in teacher publication
The Autumn Yoga Vacation is offered in a package that includes the workshop, 4-night accommodation in family hotels in the nearby sea-side village of Ambelas and daily brunch & dinner.
For full info and registration please check the retreat details on Nehama's Instagram or contact Nehama:
Tao's Center is hosting Nehama Sahar for her Autumn Yoga vacation.
The daily morning and afternoon sessions include asana practice, meditation, pranayama, mantras and philosophy. In between, you can explore the sandy beaches, the picturesque villages or simply relax with a book by the pool.
The 4-day workshop daily schedule, besides morning & afternoon sessions, includes brunch, dinner and free island time. Check this link for a detailed schedule.
Nehama is teaching Yoga since 2017, combining Hatha, Vinyasa and Ashtanga. She's teaching group & individual lessons and leading retreats in Israel and Greece.
For full info about the retreat and for registration please check the retreat details on Nehama's Instagram or contact Nehama:
More about Nehama on her Instagram