Chuck Miller Yoga
Chuck Miller Yoga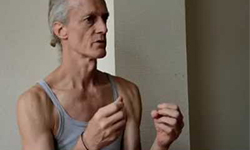 Date:
Jan 01 - Jan 01, 1970
for 5-day workshop, 6-night shared accommodation and daily brunch & dinner

Packages Details
The Chuck Miller Yoga retreat is offered in a package that includes the workshop, 6-night accommodation in family hotels in the near-by village of Ambelas and daily brunch & dinner.
Workshop-alone Price (without accommodation): 820€
10% discount for locals / repeaters
For more details, registration & reservations please contact us through the 'More Info' button above.
We are honored to host one of the senior Yoga teachers in the world – Chuck Miller – for his annual workshop at Tao's Center.
The workshop will focus on getting back to the roots and essence of Yoga. It is a unique opportunity for practitioners of all styles to reveal an over-looked core dimension of yoga, especially for teachers and experienced practitioners. The workshop is meant for participants with prior of at least one year of regular practice.
The 5-day workshop daily schedule includes morning & afternoon sessions, breakfast, dinner and free island time.
Check the detailed schedule in this link.
For more info & registration, please contact us or click the More info button on the right side of the page.
Pictures from June 2014 Workshop
Pictures from October 2015 Workshop