Iyengar Yoga & Prana...
Iyengar Yoga & Pranayama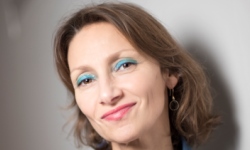 Date:
Jul 11 - Jul 16, 2023
Price:
price info in teachers publication
The Iyengar Yoga & Pranayama workshop is offered in a package that includes the workshop, 5-night accommodation in a family hotel in the nearby sea-side village of Ambelas and daily brunch.
For full info and registration please check the workshop page on Anne Cecile website or write to:
Tao's Center is hosting Anne Cecile for her Iyengar Yoga & Pranayama workshop.
The 6-day workshop daily schedule consists of 3-hr morning session, brunch and free island time.
The workshop sessions are given in French, supported by English if needed, and are meant for Yoga practitioners of all styles and levels.
Check this link for a detailed schedule.
Anne Cecile is a certified Iyengar Yoga teacher and founder of Atma Yoga Studio in Paris.
For full info and registration please check the workshop page on Anne Cecile website or write to:
anne-cecile@atmayogastudio.com
More about Anne Cecile on her website