The Kundalini Breath...
The Kundalini Breath Series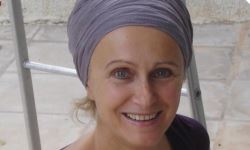 The Kundalini Breath Series
Date:
Aug 26 - Aug 29, 2021
Price:
370€
for 4-day workshop, including daily breakfast & lunch; 10% discount for locals

Packages Details
The participants of The Kundalini Breath Series are accommodated in family hotels in the near-by village of Ambelas, in special rates for Tao's guests. Because of the Series dates – end of August – check with us for availability and price while registering to the workshop.
Workshop-alone Price (without accommodation): 370€
10% discount for locals
For more details, registration & reservations please contact us through the 'More Info' button above, or write to: taos@taos-greece.com
The Kundalini Breath Series with Alexandra Basantpal is a series of Kundalini Yoga master classes.
In this series we will explore the ecstatic elements of the Kundalini Yoga practice through its use of breath, the core element of every awareness practice. It will combine Asanas, Pranayama and Meditations, strengthening the core and reducing fears and stress.
Alexandra has introduced the Kundalini Yoga practice to Tao's, which immediately turned into a core practice in the Center. She is leading the Kundalini teaching since then, bringing her clear, dedicated, mindful attitude of the practice, to the hundreds that participated her lessons, many discovering it for the first time and many others turning it into their way of life.
The series daily schedule is as follows:
09:30 Light Breakfast
10:30-13:30 Workshop Session
14:00 Lunch
No previous Kundalini / Yoga experience is needed.
For more info & registration, please contact us:
Or click the More info button on the right side of the page.
More about Alexandra Basantpal
More about Yoga at Tao's Center on the Greek island of Paros