Movement Lab
Movement Lab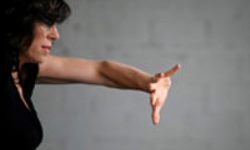 Date:
Apr 18 - Apr 22, 2022
Price:
640€
for 5-day workshop, 6-night shared accommodation and daily breakfast & lunch

Packages Details
The Movement Lab is offered in a package that includes the workshop, 6-night accommodation in family hotels in the near-by village of Ambelas and daily breakfast & lunch:
640€ for sharing a room; 730€ for staying alone
655€ for sharing a room; 760€ for staying alone
715€ for sharing a room; 790€ for staying alone
685€ for sharing a room; 880€ for staying alone
Workshop-alone Price (without accommodation): 490€
10% discount for locals
For more details, registration & reservations please contact us through the 'More Info' button above.
Movement Lab with Ilanit Tadmor is a laboratory for life, using the window of movement for exploration, awareness and change.
Exploring movement is actually exploring all aspects of one's self and thus life: limits, communication, trust, creativity, self image and many many more. The fact that movement is natural and limitless in its base, combined with the fact that eventually it solidifies and reflects our personality, makes it a perfect window to explore ourselves and to change what we would like to change.
Ilanit' huge experience in movement and mindfulness – as an individual and as a teacher – gives the framework for this exploration.
The 5-day workshop schedule consists of daily morning & noon sessions, light breakfast and lunch.
A free Intro session will take place on April 17, 18:00, open to whomever wants to join.
Check here detailed workshop schedule.
For more info & registration, please contact us or click the More info button on the right side of the page.
Ilanit Tadmor in TEDx about Movement & improvisation: