Movement as Therapy
Movement as Therapy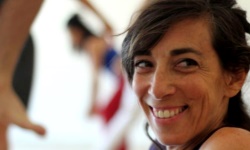 Date:
Apr 07 - Apr 11, 2023
Price:
830€
for 5-day workshop, 5-night shared accommodation and daily breakfast & lunch; 20% discount for locals

Packages Details
Movement as Therapy training is offered in a package that includes the workshop, 5-night accommodation in family hotels in the nearby sea-side village of Ambelas and daily breakfast & lunch:
830€ for sharing a room; 930€ for staying alone
830€ for sharing a room; 930€ for staying alone
905€ for sharing a room; 980€ for staying alone
855€ for sharing a room; 1,030€ for staying alone
Workshop-alone Price (without accommodation): 680€
20% discount for locals
For more details, registration & reservations please contact us through the 'More Info' button above.
Movement as Therapy with Ilanit Tadmor is a short training for therapists and teachers,presenting the various aspects of movement as a therapy tool.
In all therapeutic processes and especially those that are more verbal or static – where the patient is passive physically – movement is an essential component that is many times over-looked. Since body and mind reflect each other, movement mirrors emotional and mental patterns and then become a tool for unblocking and releasing those patterns. Movement as Therapy will offer direct experience of these two aspects of movement – awareness & healing – and demonstrate the use of those in the therapeutic process.
Ilanit' huge experience in movement, mindfulness and healing – as an individual and as a teacher – supplies the background and shapes the tools for this training.
The 5-day workshop schedule consists of daily morning practice, noon & afternoon sessions, light breakfast and lunch.
Check here detailed workshop schedule.
For more info & registration, please contact us or click the More info button on the right side of the page.
Ilanit Tadmor in TEDx about Movement: