Robina Courtin | Bud...
Robina Courtin | Buddhist Teaching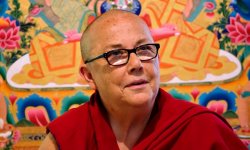 Robina Courtin | Buddhist Teaching
Date:
May 05 - May 07, 2023
Price:
180€
including daily lunch. The price is recommended Dana

Accommodation Details
The participants of the Buddhist Teachings and Meditation retreat are offered special rates in family hotels in the near-by village of Ambelas.
For questions and reservations, please contact us through the More Info button above.
Tao's Center is honored to host Ven. Robina Courtin for three days of Buddhist teaching and guided meditations.
The Buddhist teaching is talking about two wings we need to develop – wisdom and compassion – in order to be free. The 3-day program will follow this structure, going through the basic terms, concepts and practice of these two wings.
The Teaching price is recommended Dana and is meant to cover Ven. Robina visit expenses and support her world-wide teachings. For registration to the Teaching and for hotels/ transportation bookings, please contact us or click the More info button on the right side of the page.
More about the Teaching content:
THE WISDOM WING
The Buddhist view is that we all have the potential to cultivate our minds. This means a potential to lessen fear, depression, anxiety, neediness or low self-esteem, a potential to grow love, contentment, compassion, clarity, courage and all the qualities we so badly want.
The key to accomplishing this is to understand the deeply ingrained instinct of attachment. For that we need to go deeply into our own minds, unravel the complexity of our emotions, seeing them clearly and learning how to harness and transform them, becoming in charge of our own minds and lives.
THE COMPASSION WING
The development of compassion is the aim of the spiritual path. It means the removal of all separateness from others and developing the spontaneous capacity to benefit all sentient beings. The development of it is dependent upon the development of the wisdom wing – renunciation of suffering and the wisdom that sees reality as it is. When this is achieved genuine compassion can be obtained, courageous since it encompasses all living beings, including the harmers, the negative ones, not just the innocent victims.
Ven. Robina Courtin in Tao's Center, 2012
Ven. Robina Courtin in Tao's Center, 2015
Ven. Robina Courtin in Tao's Center, 2017