Being Human | Therap...
Being Human | Therapists Intensive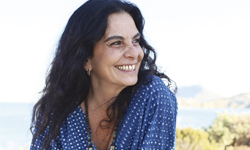 Being Human | Therapists Intensive
Date:
Oct 18 - Oct 21, 2023
Price:
750€
for 4-day training including daily lunch; Special price for repeaters & 10% discount for locals

Packages Details
Therapists Intensive is offered in a package that includes the training, daily lunch & 5-night accommodation. We tailor the package according to the needs & budget of the participants in various family hotels, houses and villas in the near-by village of Ambelas.
Workshop and meals-alone Price (without accommodation): 750€
special discount for repeaters & 10% discount for locals
For more details, registration & reservations please contact us through the 'More Info' button above.
'Be a therapist that performs miracles,
Be a human being.'
Therapists Intensive is a 4-day training given by Orly Doctori (Ujallah) designed for all kind of therapists from all areas and backgrounds.
In this Intensive, Orly will present her therapy method – InLove Consciousness. According to this method, the destination of every therapy, regardless to the therapist background and practice, is to enable the freedom to Be and the of love of what Is. The obstacles are of the mind, fears that limit one's mental perception and affect the emotional and physical wellbeing. The healing principle is recognizing every occurrence in life as a navigation tool on one's self-growth map.
Therapists Intensive daily schedule includes morning, noon and evening sessions, morning and afternoon meditations and lunch.
More about Therapists Intensive:
In the Intensive will explore and practice the following themes:
1. What is Conscious Therapy and what are the qualities needed to be a conscious therapist.
2. Love as Healing Principle: Therapy as series of encounters where both therapist and client lose any sense of separate interests.
3. Holy Relationship: Either short or long and progressive, therapist and client must be honestly willing to follow and accept the truth.
4. Entering the Subtle
– Observation: The recognition of automatic patterns of action and behaviour.
– Discovery: The gain of new data in the field of consciousness.
– Creativity: The relevance of the unexpected.
5. Languages of Development
Language, either spoken or in thoughts, is reflecting a phase of one's evolution and growth.
– Childhood: Being dependent and seeing yourself as the world.
– Teenhood: Defining yourself as different from the world and claiming for independence.
– Adulthood: Seeing yourself and the world as interdependent; maturity.
6. Feminine & Masculine: Updating their definitions and clarifying their characteristics, differences and interdependence; The laws of LifeMotion.
7. The Chakras: Structure, arrangement and relations between all elements of the incredible Human Being.