Vinyasa with Anat | ...
Vinyasa with Anat | EllaYoga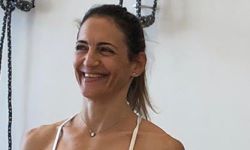 Vinyasa with Anat | EllaYoga
Date:
Jun 14 - Jun 19, 2022
Price:
price info in EllaYoga publication
The workshop is offered in a package that includes also daily breakfast and lunch, transportation in the island & 5-night accommodation in family hotels, in the sea-side village of Ambelas.
For more details and registration, please check the EllaYoga Workshop page or write to:
Tao's Center is hosting EllaYoga and Anat Shpigler Manoach for a 5-day Vinyasa Yoga workshop.
Anat is a prominent Vinyasa Yoga teacher and EllaYoga is one of Israel's leading Yoga Studios. They cooperate regularly in Israel and in this workshop they will extend their cooperation to Greece. This means adding to their high-level professional-aspect, also the unique Yoga Shala of Tao's, the special Tao's vibe and the beautiful surrounding of Paros Island.
Please check here detailed workshop schedule.
You can read more about Anat in her teacher page and about EllaYoga in the Studio website.
For more details and registration, please check the EllaYoga Workshop page or write to: