Inhale Exhale
Inhale Exhale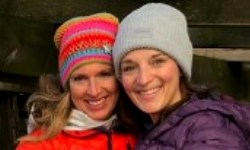 Melanie Doerfl & Stefanie Vorbau
Date:
Apr 22 - Apr 26, 2020
Price:
price info in teachers publication
Inhale Exhale Yoga retreat is offered in a package that includes the workshop, 4-night accommodation in family hotels in the near-by village of Ambelas, shared cars and daily breakfast.
For price & packages details please check this link or contact Melanie:
Tao's is hosting Melanie Doerfl & Stefanie Vorbau for their Inhale Exhale Yoga retreat.
The 4-day retreat offers a framework for women to reconnect, relax and practice, through Yoga sessions, Meditation, Pranayama, outdoors excursions and free island time.
The retreat daily schedule includes morning and afternoon Yoga & Movement sessions and daily breakfast.
Melanie is a Yoga teacher based in Nebraska, focusing on Yoga for women and combining into her teaching Mindfulness and Breathwork, supporting women in all phases of the feminine journey.
Stefanie is a Kundalini Yoga teacher based in Germany where she leads sessions and workshops, combining into her teaching Stress prevention and Health management.
For full info about the retreat please check this link or contact Melanie:
More about Melanie on her website
More about Stefanie on her website