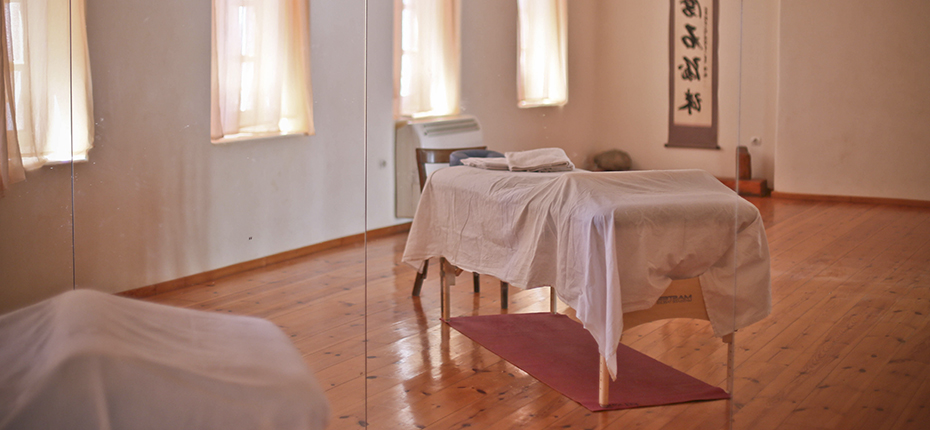 A whole range of Natural therapies, ready for you
In need of a detox – body, mind, spirit? Often in our busy lives we forget how much tension and toxins we carry in our physical bodies and emotionally. It is common for fast paced modern-day lifestyles to keep us from checking in with how we are feeling. This can also be the case when you are on holiday, where it's common to over-indulge or to feel the stress of long journeys. If you have come to the Greek Island of Paros, in the Cyclades, you have the opportunity to use you time away and cleanse your body and soul from the build-up. Taking some time for yourself may seem selfish at first, but it is not until we heal and energize ourselves that we can use this positive energy to help and enrich the lives of others. In addition to our yoga and pilates retreats and daily activities at Tao's, we offer a wide range of holistic therapies from an international team of skilled therapists and healers. But with so many to choose from, and some not so conventional, we have put together a quick explanation for you!
Massage and Body Work
A selection to suit your needs includes the traditional Indian Ayurvedic massage, which is a therapy using warm oils to detoxify the largest organ in the body – the skin. Our therapist Evita from the Czech Republic combines deep tissue massage and herb-infused oils to release energy blockages and muscle tension. A powerful recharger and rejuvenator for the body and mind. You could also opt for a traditional Thai massage with a yogic influence, where our therapist Micol from Italy gently manipulates and stretches the body in tandem with our classic Thai massage. This massage is not only physical but deeply emotional and has a strong calming effect. Our Greek therapist Chrysoula uses osteopathy and craniosacral rhythms to release trauma held in deep tissue in the body. This is a gentle therapy that focusses on the bones in the head, spine and sacrum. For a whole body scan and a treatment for specific pain or issues, Prem's "Healing Touch" combines craniosacral therapy, fascia release and Yoga Nidra. Spend time discussing your pains and concerns and form the therapy together. In addition to these we offer Reiki massage, Shiatsu, hot stone massage, acupuncture and cupping.
If you are interested in the Californian Massage for its relaxation and deep work on the muscle structure, Barbara from Switzerland will make sure to relieve your stress. Marcelo, from Argentina, is specialized in a Balancing massage that combines Reiki, energy work and relaxing massage to get rid of over any knots and tension in your physical and emotional bodies. And finally Ioanna, from Greece, focused in increasing your lymphatic flow and reducing edema with her Deep Relaxation massage, ideal to work on those muscles that are overused.
Counselling and Readings
Perhaps feeling lost for direction in your life or troubled by something specific, a trauma or continuing self-work? Come and talk to someone. Our resident teacher Ujallah is available for one-on-one counselling sessions that can include different kind of techniques, from dream work and creative therapy to constellations, Chakra work or Chinese medicine, in order to help you awaken to your true self. You can also come and have your astrology birth chart reading by Ronit, who will be able to use the day of your birth and the position of all the planets and stars at that moment to guide you through particular themes, life lessons, offer suggestions on current points to work on and identify future challenges.
Always apply your own oxygen mask before assisting others – we believe this applies in airplane emergencies and in life! Restore balance to your body and mind, detoxify and revitalise yourself during your stay in Paros. For our full catalogue of therapies, prices and general information please visit Tao's Center Greece website