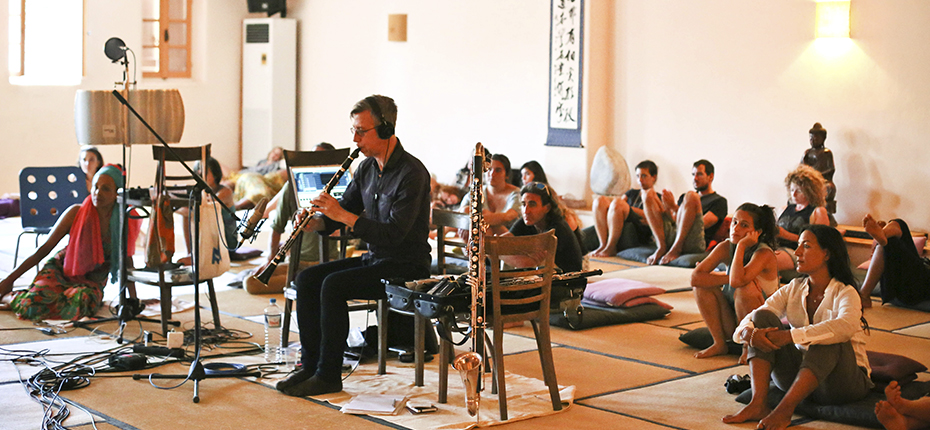 What's Happening in Music Week? Jamie Catto & Friends is Happening
Something special is about to happen. Musicians from all over the world will converge and record a unique album as part of a creative experiment pioneered by Jamie Catto. This international group of people have never rehearsed or performed together before and they are coming to Paros, Greece, to be inspired by the island and the spiritual surrounding of Tao's Center. What they record during the day will be performed at night – so this July during Tao's Music Week, we will have the experience of witnessing music in the making! Tao's Music Week is a colorful festival celebrating wellbeing, movement and international artists running from July 25 to 29, and this year it is taken to a whole new level with The Happening.
Creative catalyst, musician, mischief-maker and founding member of Faithless, Jamie Catto, was born in London in 1968 and released his award-winning album "1 Giant Leap" in 2002 with Duncan Bridgeman. Drawing from the richly diverse wisdom, techniques and processes he has encountered during his filming, recording and philosophy voyage across all 5 continents during the making of "1 Giant Leap", he now also leads transformative workshops and one-on-one sessions.
"We need to collectively admit that we're not fine, we're not confident and balanced and good," says Jamie, whose philosophy in his workshops and in his art is to pull away our masks. "We think if people saw the truth, then we'd get rejected. But in fact, the opposite is true. It's when we dare to reveal the truth that we unwittingly give everyone else permission to do the same." During his visit for Music Week, Jamie will also be running one of his flagship workshops "What About You?"  This workshop will be about giving our dreams an explicit expression and manifesting them through action. "We're on a mission to make self-reflection hip for just a moment, just long enough to save us." His workshop will be running on July 23 and 24. But, we digress. Back to music!
The first Happening, "As Deep As We Can Go Without Drowning" was recorded in London, the second, "These Are My Diamonds", in Berlin. Now for his third Happening, Jamie will be joined at Tao's in Paros by Trilok Gurtu (world known Indian master percussionist), Zap Mama (vocals, polyphonic and Afro-Pop), Duncan Bridgeman (production, composing & recording), Dave Randall (acoustic & electric guitars), Renaud Pion (woodwind) and Liam O'Maonlai (piano & keyboards / vocals ). This project is a Here and Now musical event, reminding us to "be here, present, vulnerable and authentic." Recording will take place in Tao's meditation hall and we will be able to see the results of the day's session live in the evening.
Our program (Link to Program page) will take you on a musical wellness journey featuring yoga, meditation, unique live performances and dance. In addition to The Happening jamming sessions and live shows, Music Week will feature live clarinet meditation every morning with Harel Shachal, "Body in Motion" movement sessions and our usual yoga and Pilates program. An excellent line-up for a week holiday in the Greek islands!
For Jamie's full bio and information on his upcoming workshop at Tao's, click here .