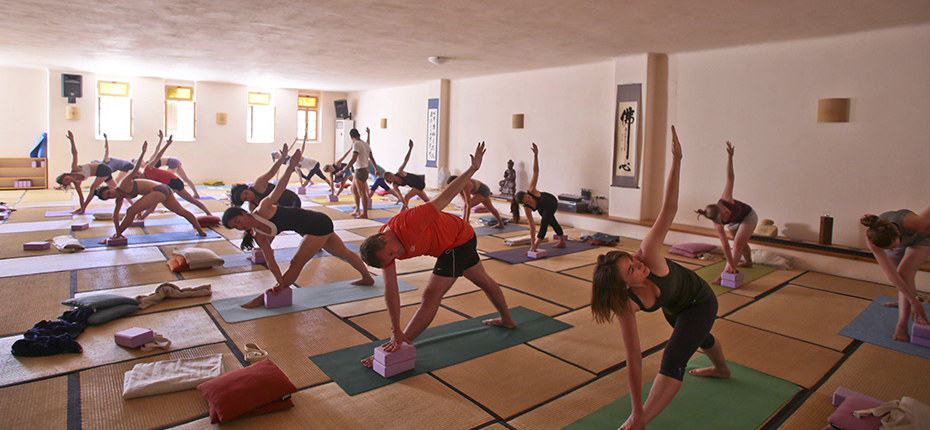 The power of yoga – a path to enlightenment
There is really nothing like the still moments we find while practicing yoga on our rooftop at Tao's during sunset, overlooking Paros island and nearby Naxos, breathing together and connecting thought and movement. There is something that happens which is difficult to put into words. It is something shared with ourselves and our own yoga mat, shared with the teacher, and also something shared in that space between all of the bodies participating together. A journey for sure, of spirit and personal development, and something we believe is fundamental to any pursuit of holistic wellbeing in life.
Yoga is certainly nothing new. For 5,000 years it has been a traditional practice in Hinduism and Buddhism to bring forth the spirituality within us. There are many different styles and practices, to name a few – the traditional and very physical Hatha yoga, the "flow" of Vinyasa yoga, yoga which is entirely about breathing, Kundalini yoga known to some as "the yoga of awareness", Yin yoga where we stay still for a while in each pose, Bikram yoga which is done in a room heated to 40℃ – all with the common philosophy: forge a union between body and mind. And of course there are many proven physical benefits such as improved circulatory health, muscle strength, flexibility and vitality. So it is not about touching your toes or stretching further than the person next to you – there is no ego in yoga! Yoga is a progression within ourselves, where we become more aware of the body we live in and more aware of the cycles we experience physically and emotionally. What asanas – or postures – we can do today with ease may not necessarily be the same asanas we are comfortable in tomorrow.
"We will have days in our lives where we will need to do less," says Maty Ezraty, who we can consider as one of yoga's greatest innovators, "yoga should be a support in our life and not a demand that we place on ourselves." Maty began teaching in 1985 practicing largely Ashtanga yoga. She has studied many times in Mysore, India with some of the world's most inspirational teachers. "I felt that too much emphasis is on accomplishing poses and getting the next pose in the series. I see that as propelling the misery of life—'more is better' rather than what yoga is really trying to teach us: love, kindness, and acceptance."
Maty teaches yoga workshops all over the world and we are honoured to say she will be bringing the spirit of yoga and her love of meditation to us here at Tao's Center in September for her yoga workshop over four days. Maty will be joining the ranks of our international yoga instructors who visit Paros from far and wide during the summer months to bring their gifts to our students. We consider ourselves lucky to have a colourful group of teachers who each bring a unique perspective and style of yoga. We are also fortunate to be able to come together from many different countries and practice a variety of yoga in Tao's beautiful spaces; be it in our soulful tatami hall or our light studio upstairs looking out to the sea.
Namaste, as we say at the end of each class, the divine in me bows to the divine in you.
Access our schedule of activities for yoga class times. For more details on our upcoming yoga workshop with Maty, and to learn about her story, go here.