Gaga & Yoga
Gaga & Yoga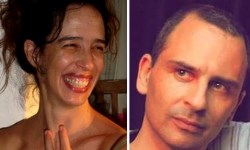 Date:
Jun 06 - Jun 10, 2023
Price:
960€
for 5-day workshop, 6-night shared accommodation and daily breakfast & lunch; 10% discount for locals & repeaters

Packages Details
The Gaga & Yoga workshop is offered in a package that includes the workshop, 6-night accommodation in family hotels in the near-by village of Ambelas and daily breakfast & lunch.
960€ for sharing a room; 1,110€ for staying alone
975€ for sharing a room; 1,140€ for staying alone
1,140€ for sharing a room; 1,350€ for staying alone
1,230€ for sharing a unit; 1,710€ for staying alone
Workshop and meals-alone Price (without accommodation): 750€
10% discount for repeaters & locals (GR)
For more details, registration & reservations please contact us through the 'More Info' button above.
Tao's Center is happy to present a unique Gaga & Yoga workshop in the island of Paros, Greece.
The Gaga & Yoga workshop offers a special opportunity to experience two approaches – the ancient Yoga and the very up-to-date Gaga – that use movement to awaken awareness.
Gaga is a movement language developed by choreographer Ohad Naharin throughout many years. It provides a framework for discovering and strengthening the body, enhancing flexibility, stamina, agility and skills as coordination and efficiency, while stimulating the senses and the imagination.
The Gaga sessions will be guided by Ohad Fishof, an interdisciplinary artist working in the fields of sound, dance, performance and visual art. He is a long-term collaborator with Batsheva Dance Company and has worked closely with Ohad Naharin. Read more about Ohad Fishof in his teacher page.
Yoga by Ouvi Lifshitz is a methodological practice without a method. Being one of Israel's leading yoga teachers, she teaches yoga practice in an organized-methodological way without belonging to any particular school of yoga. Read more about Ouvi Lifshitz in her teacher page.
The 5-day workshop daily schedule includes morning yoga practice, noon & afternoon Gaga sessions, evening meditation, light breakfast, lunch and free Island time.
Check the detailed workshop schedule
For more info & registration, please contact us or click the More info button on the right side of the page.
Tao's workshops & retreats pictures