Gaga & Yoga
Gaga & Yoga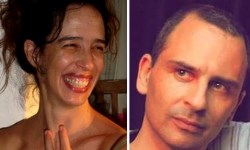 Date:
Sep 07 - Sep 11, 2020
Price:
790€
for 5-day workshop, 6-night shared accommodation and daily breakfast & lunch; 10% discount for repeaters

Packages Details
The Gaga & Yoga workshop is offered in a package that includes the workshop, 6-night accommodation in family hotels in the near-by village of Ambelas and daily breakfast & lunch.
790€ for sharing a room; 880€ for staying alone
790€ for sharing a room; 940€ for staying alone
850€ for sharing a room; 940€ for staying alone
955€ for sharing a unit; 1,270€ for staying alone
Workshop and meals-alone Price (without accommodation): 640€
10% discount for repeaters
For more details, registration & reservations please contact us through the 'More Info' button above, or write to: taos@taos-greece.com
Tao's Center is happy to present a unique Gaga & Yoga workshop in the island of Paros, Greece.
Gaga & Yoga is a special opportunity to experience movement using two systems – Gaga & Yoga – that offer methods in which awareness emerges naturally through movement.
Gaga is a new way of gaining knowledge and self-awareness through your body, developed by Ohad Naharin. The Gaga sessions will be led by Ohad Fishof, an interdisciplinary artist working in the fields of sound, dance, performance, and visual art. He is a long term collaborator with Batsheva Dance Company and has worked closely with Ohad Naharin. Read more about Ohad Fishof in his teacher page.
Yoga by Ouvi Lifshitz is a methodological practice without a method. Being one of Israel's leading yoga teachers, she teaches yoga practice in an organized-methodological way without belonging to any particular school of yoga. Read more about Ouvi Lifshitz in her teacher page.
The 5-day workshop daily schedule includes morning yoga practice, noon & afternoon Gaga sessions, evening meditation, light breakfast, lunch and free Island time. On September 6, 19:00, an open Gaga Intro will take place, free of charge.
Check the detailed workshop schedule
For more info & registration, please contact us:
Or click the More info button on the right side of the page.
More about the workshop content
Gaga provides a framework for discovering and strengthening your body and adding flexibility, stamina, and agility while lightening the senses and imagination. Gaga raises awareness of physical weaknesses, awakens numb areas, exposes physical fixations, and offers ways for their elimination. The work improves instinctive movement and connects conscious and unconscious movement, and it allows for an experience of freedom and pleasure in a simple way, in a pleasant space, in comfortable clothes, accompanied by music, each person with himself and others.
"We become more aware of our form. We connect to the sense of the endlessness of possibilities. We explore multi-dimensional movement; we enjoy the burning sensation in our muscles, we are ready to snap, we are aware of our explosive power and sometimes we use it. We change our movement habits by finding new ones. We go beyond our familiar limits. We can be calm and alert at once." Ohad Naharin
Every method of Yoga is the result of particular insights therefore limited by the founder's own awareness and individual thoughts. But yoga – as a "tradition of freedom" – calls upon each practicing individual to form their own perspective and to develop their unique practice.
Ouvi Lifshitz, an established Vinyasa yoga teacher living and working in Israel, teaches practice based on five principles: Asana & Vinyasa, Compensation, Target position, Numbers. These provide a framework in which physical, mental and spiritual practices are not confined to someone else's understanding but rather gives the practitioners the freedom of finding their own way.
Pictures from previous Gaga & Yoga workshops
And a bit from Mr. Gaga, a documentary about Ohad Naharin' work: