NIA Retreat
NIA Retreat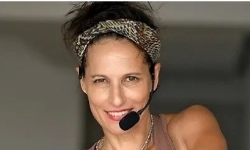 Date:
May 24 - May 28, 2023
Price:
price info in the teacher publication
The NIA Retreat is offered in a package that includes the retreat, 4-night accommodation in a family hotel in the nearby sea-side village of Ambelas, 4-day shared car and daily breakfast & lunch.
For full info & registration to the retreat please check the retreat page on Yifat website or write to:
Tao's Center is hosting a NIA Retreat with Ifat Galinsky.
The NIA Technique – Non-Impact Aerobics – is a movement practice in the form of dance-workout. NIA dance-workouts combine simple moves with modern dance, martial arts and yoga, aiming to get you fit and energized in body, mind and spirit.
Ifat Galinsky is a senior NIA teacher (black belt) for more than a decade. She is the founder of NIA+ studio, that hosts various movement, awareness and community activities.
For full info about the retreat please check the retreat page on Ifat website or write to:
More about Ifat on her website