Being Human
Being Human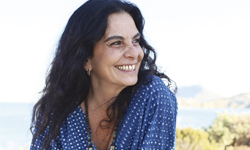 Date:
Jun 14 - Jun 18, 2023
Price:
830€
for 4-day workshop, 5-night shared accommodation and daily breakfast & lunch

Packages Details
Being Human is offered in a package that includes the training, 5-night accommodation in family hotels in the nearby sea-side village of Ambelas and daily breakfast & lunch.
830€ for sharing a room; 1,030€ for staying alone
893€ for sharing a room; 1,055€ for staying alone
1,005€ for sharing a room; 1,180€ for staying alone
1,080€ for sharing a room; 1,480€ for staying alone
Workshop and meals-alone Price (without accommodation): 680€
10% discount for repeaters & for locals
For more details, registration & reservations please contact us through the 'More Info' button above.
Being Human offers a self-growth process of healing and awakening, guided by Orly Doctori.
In our daily life, we tend to solidify our patterns and become less aware of our unprocessed pain and challenges. Being Human is using wide range of tools to enhance awareness, creating simultaneously a space for self-healing and for growth.
The more we learn to live from a higher consciousness and less from the interpretation of our unprocessed pain, the more free we become.
The more free we are, the more connected we are to love, towards ourselves and towards others.
The more we come from love, the more we master our experience and less overwhelmed by life and its occurrences.
This is what Being Human is.
The 4-day workshop schedule includes daily morning, noon and evening sessions, morning and afternoon meditations, light breakfast & lunch.
Check this link for a detailed schedule.
For more info & registration, please contact us or click the More info button on the right side of the page.
Testimonials of participants in Orly's workshops & sessions